Local events
Get-togethers are a welcome way to socialise and have fun. That holds true for us here in Kaiserwinkl as well, and every season has its own typical events - a great way to mix with the locals and learn more about tradition and Tyrolean lifestyle.
Koessen cheese festival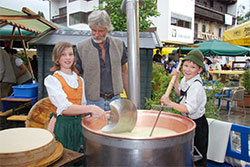 Late spring (end of May / beginning of June) is the perfect time for the region's annual cheese festival. Proper folk music and all sorts of local specialities are the accessory parts around the festival's star: cheese of all tastes and stages of maturity. Local farmers present the festive visitors with a variety of their produces.
Celebration of the first harvest: Egascht
Whitsunday is the time to first take stock of the year of crops so far. It's also the time to rejoyce in summery temperatures and long days. The celebrations are perfectly tied in with local culture, profane rites and tradition. They take place on the fields of landlord Fischer, the so-called "Fischerangerl", Walchsee.
Harley Davidson meet & greet
Mid-June in Koessen is dedicated to motor biking and the easy way of life. The Biker's party is a welcome meeting point for riders and enthusiasts of all walks of life.
Kaiserwinkl golf week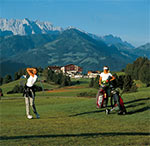 Annually, one week in June is all about the little white ball. Golfers are invited to a 7-day challenge at the region's many long and short courses. As the weather gods smile at the players, they are usually only distracted by the beautiful alpine scenery.
Tyrolean Festival Erl
Do you love classical music? We do, too. That is why we consider ourselves lucky to have Erl as one of our neighbour villages. Every year they hold the Tyrolean festival with a fine programme of concertos, chamber music and opera. The festival venue alone

is an amazing piece of architecture! For more information go to www.tiroler-festspiele.at
The operetta festival / Kufstein fortress
The medieval fortress has its own arena which is absolutely weatherproof thanks to an impressive, mobile roof construction. In a setting like this every concert etc. turns into a listening experience of the highest quality.
Imperial & regional: Kaiserfest /Kufstein
Every year, the Kaiserfest [imperial festival] attracts herds of people from all walks of life and all quarters of Europe. The festival is known for its many musical stages, party tents and other attractions.
Flower parade /Ebbs
For a couple of days, the little village of Ebbs centres around more then 50 coaches, decorated with flowers allover and fantastic flower arrangements, e.g. see dragon in the picture.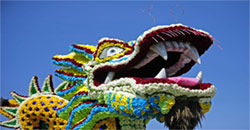 Kaiserwinkl Challenge
Powered by shopping mall "Kaufhaus Tyrol", Kaiserwinkl challenge is a triathlon in and around lake Walchsee. Professional triathletes and amateurs alike partake in this international competition. Stages: swimming (1,9 km), cycling (90 km; Walchsee-Koessen-Kirchdorf-Schwendt-Walchsee) und running (four laps around the lake; approx. 20 km) For further details please check www.challenge-walchsee.at.
Returning to the valley: Almhoamfahrn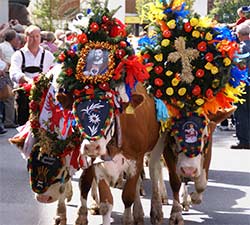 When cattle come back from a summer in the mountains in September, they are especially spruced up. Flower arrangements and pictures grace their crowns. The festive look makes for a special entrance, one extremely popular event that marks the transition from summer to autumn.