A camping holiday in Walchsee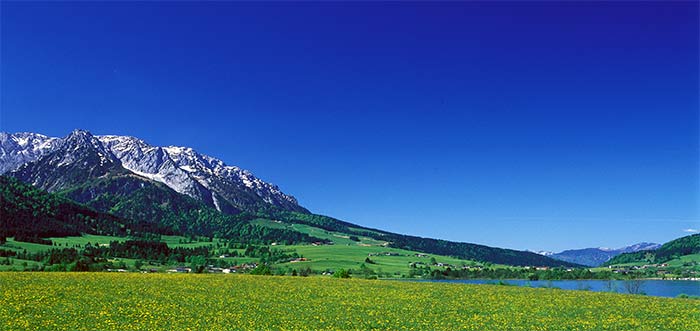 Walchsee is a small, tranquil village in the heart of the Austrian Alps. Its population today stands at 1800. The main business branches are tourism and agriculture. Both have formed village life and built Walchsee's economic status. As a guest, you'll reside in an affluent, safe country village with local highlights, an interesting history that dates back to ancient times and genuine local food at its best. Walchsee is also renowned for its mobilsing, wholesome climate, which is particularly popular with the top European soccer teams who come here in summer for their annual training camps. Would you like to be in full cry like professional sportspersons and holiday in a nature paradise?
A short history of Walchsee
Sources prove that the area of Walchsee has already been populated in bronze age. In times of the Roman Empire the village was a melting pot of incoming Germanic settlers, Roman colonisers and their descendants, "Walchen". They lived peacefully alongside with Romanised Illyrians from the Balkan and Apennin peninsula and indigineous Alpine Celts, the Raeti. The first mention about Walchsee dates back to 1151. In a charter, Pope Eugene III donated the entire village to a nearby cloister (Rott). Its isolated geographic position has spared Walchsee from a number of historic happenings, and so has led to a relatively long period of peace and stability. Tourism came fairly late, about 70 years ago stunned guests first entered the untouched land.
Discover your favourite Walchsee
Like the first tourists in the late 1940s, you can experience original landscape and wildlife and fall for its breathtaking beauty. A good example is "Schwemm", a relic of a postglacial lake that in time has grown a moor due to fossil deposits. Today it is the biggest highmoor in the Tyrol, unmatched, with remarkable flora and fauna. WWF Austria launched a project and made Schwemm a so-called Natura 2000 area. They built a look-out, a pedestrian bridge and left dozens of information boards for visitors to connect with this fascinating site.
Just around the corner, right in the centre of attention, lovers of water and water sports, will find lake Walchsee. Its warm water (20 – 24°C) and excellent water quality make Walchsee one of the most popular lakes in all Tyrol. Water enthusiasts will find that the lake is perfect for swimming, wind surfing, water skiing, boating, angling, and what have you!
Lovers of hights and fearnoughts have plenty of summits to conquer and rocks to climb in the nature sanctuary "Kaisergebirge". The imperial chain of mountains with its extraordinary wildlife have everything mountaineers and climbers can ever ask for and more.
Those who prefer a lighter version of mountaineering can take nice little strolls in lower mountain regions. Together with family and friends they can walk lush green, flavoursome meadows as Maria does when she sings "The hills are alive".
Now you can see, why Walchsee with its wild beauty and varied scenery quickly becomes any camper's delight! What is your favourite Walchsee?