Alpine highlights
Caving Lamprechtshöhle / St. Martin in Lofer
Cave of Lamprecht is the world's longest cave passage and streches across a distance of 51 km. Discover the fascinating world belowground. Comfortable staircases lead you all the way through the well-lit passage. Step by step you'll have an impressive look down. Visitable at any weather.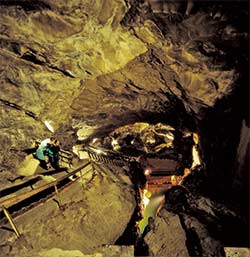 Obsthurn 28, 5092 St. Martin, www.naturgewalten.at, www.lamprechtshöhle.at, phone: +43 6582 8343
Other caves are Tischoferhoehle in Ebbs and Grafenloch in Oberaudorf.
Ravine Vorderkaserklamm / St. Martin in Lofer
Drips of water can chew stone! That has happened for the last 16.000 years in a ravine called Vorderkaserklamm. There, stream Oedenbach has been gorging itself through the rocks. More than 51 bridges and 35 stairs lead the way through the 400-meter-long ravine, which by now runs 80 metres deep.
Obsthurn 42, 5092 St. Martin, www.naturgewalten.at, phone: +43 6588 8510
Ravine Seisenbergklamm / Weißbach in Lofer
This ravine measures a length of 600 metres and carries a similar formation history like ravine
Vorderkaserklamm above. In the past, its water passage was used to drift timber downhill and woodworkers built themselves simple lands on which they could stand. Over time they have been revised and modernised. Today, they have balustrades and are safe. The hike through the ravine takes about an hour.
Oberweißbach 16, 5093 Weißbach, www.naturgewalten.at, phone: +43 6582 8242-4 or +43 6582 8352
Devil's gate / Kirchdorf / Gasteig
Hinterberg is the place to go. It's a hamlet with some farms and a car park from which you'll get to the trail that leads to devil's gate -Teufelsgasse. On your way up you'll have a great view of the monumental mountain chain "Kaisergebirge". At one point you are arriving at a crossroad at which you go for the inconspicuous dirt track. Some metres into the track you are suddenly entering devil's gate. In a flash you'll notice the magic of the place: It looks as if a force cracked an enormous rock and made a stone gate. In passing through, it feels as if you're crossing over to an enchanted world of fairytales. Soon after the track leads you back to reality and to your vantage point, via two pastures: Feistoetzalm and Pfarralm.
The rare animal zoo / Ebbs
This zoo is home to rare and endangered animals as well as exotic species like reptiles, monkeys, kangaroos, birds from all corners of the world, just to name a few. The children's farm is an on-site project to illustrate how animals can co-exist peacefully - without jealousy about food.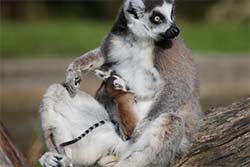 Kruckweg 20, 6341 Ebbs, www.raritaetenzoo.at, phone: +43 664 455 36 30
Deer park Wildbichl / Niederndorferberg
Deer park Wildbichl takes care of native alpine animals in their natural habitat. Walking about you'll spot red deer, lynx, ibex, chamois, wild pig, mouflon, owl and more. Guess what: Feeding by visitors is allowed! More entertainment can be found on the huge playground with its swings, slides, seesaws, the ropeway, the children motorway, the trick fountain, bumper car action and the childre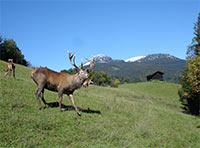 n caterpillar.
Gränzing 30, 6342 Niederndorferberg, www.wildbichl.com, phone: +43 5373 62233
Alpine zoo / Innsbruck
At alpine zoo in Innsbruck compounds, terrariums and fish tanks are built as close to nature as possible to accomodate each of the 150 different species of wild animals in ways that suit them best. This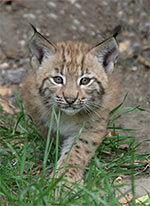 way it is possible to watch all beings in real-life situations.
Alpenzoo, Weiherburggasse 37, 6020 Innsbruck, www.alpenzoo.at, phone: +43 512 29 23 23 - ext. 16 or 17