Exhibitions & museums
Museum of Tyrolean farmhouses/Kramsach
The open-air museum stands as a a physical documentation of peasant life and culture, vital to the overall appearance of the Tyrolean landscape nowadays. Guided tours narrate peasant life as subject to historical and social changes throughout the past centuries.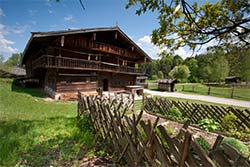 The collection comprises 14 farmhouses and adjoining buildings such as blacksmith lodges, mills, chapels, etc. They were removed from their original locations and re-assembled on the museum campus. Walking the farms gives the beholder an impression of work and everyday life in bygone times.
Angerberg 10, A-6233 Kramsach, www.museum-tb.at, phone: +43 5337/62636-13
Handcraft museum/Rattenberg
Rattenberg, the smallest town of the Tyrol but meaningful in respect to its history, is home of the famous nailer lodges. Their origins date back to the 12th century AD. They are particularly striking in that they are built so close to the cliffy rocks that almost wall the town of Rattenberg in southern direction. Today these medieval houses accomodate the handcraft muesum, which you definitely shouldn't miss out on.
Suedtirolerstrasse 33, A-6240 Rattenberg, www.rattenberg.at, phone: +43 5337 67097
Museum of the history of Kitzbuehel
The history of Kitzbuehel is varied, exciting and wondrous. Its presentation mainly focuses on three themes. Life in bronze age; around 1000 BC settlers were already mining. Life in prosperous medieval times, which set its standing as a city and important location. Life in the latter half of the 20th century, which was distinctly marked by winter sports and tourism, especially from the 1950s. Two important persons are irretrievably linked with Kitzbuehel's rise at that time: Skier Toni Sailer and his band of men called the Wunderteam; and Alfons Walde Kitzbuehel's native son and painter. In the musuem's top floor there is a large exhibition dedicated to Walde's paintings, which mostly depict skiers in gentrified winter sceneries in and around Kitzbuehel.
Hinterstadt 32, A-6370 Kitzbuehel, www.museum-kitzbuehel.at, phone: +43 5356 67274
Museum of Tyrolean Woodcraft/Wildschoenau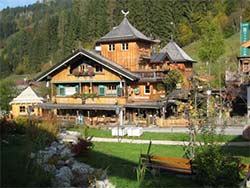 In a wooden house in proper style, carver and sculptor Mr Hubert Salcher established a museum about Tyrolean timber and woodcraft traditions. The museum holds 2000 exhibits which give credit to the history of woodcraft and further illustrate its importance for local culture.
Ortsmitte Nr. 148, A-6313 Wildschoenau, www.holzmuseum.com, phone: +43 664 3803212
It is highly recommended to visit the old town of Kufstein with its fortress (a 20-minute car ride from Campsite Seemuehle) and the old town of Kitzbuehel (40 minutes by car). The bigger cities of Salzburg, Innsbruck and Muenchen are only one hour by car.