Pitches & supply
There are 56 pitches in nine different zones (from "A" through "I") at your disposal. There are a number of pitches partly fenced by trees and bushes. Their varied setting makes it possible for every guest to choose a spot after their taste. In other words, it is entirely up to you if you prefer your share of sunshine primarily in the morning, the afternoon or in the evening. For instance, zone A, C, E and parts of H are mostly sunny all day, zone D, F, I are partly sunny and zone B and G are mostly shaded. On the way to the parklands of Seemuehle gardens, there are a handful of quite idyllic pitches with mountain view, which some of our guests call "the imperial view" (in refernce to the local mountain chain "emperor"). There, access to the pure waters of the lake's own channel are within range of sight. From experience we've learnt that while the nature of the ground isn't really important when camping by caravan or camper, tent campers are precisely in need of softer grounds. For this reason we do one meadow for tents only (see below "Pitches in zone F/G/H/I"), then again, we do pitches that are fit for caravans and campers (see below "Pitches in zone A/B/C/D/E").
We are not suitable for motorhomes that are more than 6,50m long.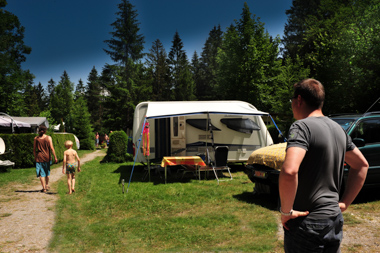 Regular pitch size from 80 to 100 m², visibly marked by two wooden pegs, equipped with electricity (230 volt, 6 ampere, please don't forget to bring your extension cord), water and waste-water supply.
Highly recommended for caravans and campers.
Natural division between pitches, separated rather by trees and bushes; equipped with electricity (230 volt, 6 ampere, please don't forget to bring your extension cord), water supply: one common standpipe; These pitches are close to the lawns for sunbathing and the channel bath.
Recommended for smaller / lighter caravans and campers.
Highly recommended for tents - particularly zone I.

Once you've made up your mind, let us know your "favourite camping spot" and your travel time. We'll be happy to reserve it for you, instantly.

The zones designated for longterm camping are unique in looks as well, shaped by natural conditions. There is also variation in sunlight and intensity, the growth of plants and trees, position und facing direction, etc. All of these pitches are equipped with electricity and their own water tap, the majority of them have a sewer to dispose of wastewater.