Places out of the ordinary
The Swarovski crystal worlds/Wattens
This enchated place designed by the Austrian conceptual and performance artist André Heller is highly recommended for those who want to stop and look about in wonderment.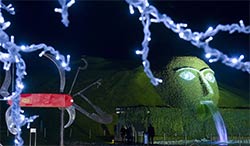 Meanwhile the Swarovski crystal worlds have become Austria's second most visited site after Vienna's Schoenbrunn castle.
Kristallweltenstraße 1, A-6112 Wattens, www.kristallwelten.swarovski.com, phone: +43 5224 51080
Triassic Park/Waidring
This place speaks to inquisitve minds, willing to know more about our planet's history. As the picture indidactes the Triassic Park is all dinosaurs, fossilised coral and coral algae - largely, fossils of all sorts. Take a short trip to Waidring and gain stunning insights into past ages of the earth.
Alpegg 10, A-6384 Waidring, www.triassic-park.com, phone: +43 5353 5330-0
Fairytales and adventure park Marquartstein,
Leisure park Ruhpolding
It is no wonder that these two destinations are most popular with children and visitors young at heart! They do slides and climbing frames, dragon rides and a workring crystal mine. So, what are you waiting for?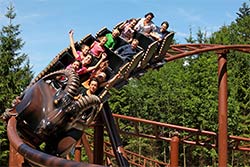 Fairytales & adventures: Märchen-Erlebnispark Marquartstein, Jägerweg 14, 83250 Marquartstein
Fun & action: Freizeitpark Ruhpolding, Vorderbrand 7, D-83324 Ruhpolding, www.maerchenpark.de, phone: +49 8663 1413
Witchwater Hexenwasser/Söll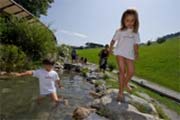 We have yet another fantastic place in store! It's the witchwater, Hexenwasser, in Hochsoell. This barefoot walking trail through entchanting waters leads you downhill and is meant to bring sensation and delight to its visitors. As the barefoot walkers follow the trail they'll pass several stations, where they learn about the methods of "witchcraft". For instance, they are shown how water learns to run uphill.
Stampfanger 21, A-6306 Söll, www.hexenwasser.at, phone: +43 53 33 - 52 60