Kaiserwinkl sports
Hiking/Nordic walking/mountain biking
Kaiserwinkl with its holiday villages Walchsee, Koessen, Schwendt and Rettenschoess is a marvelous place for hiking and Nordic walking. In the lower and middle mountain regions there are a vast number of family-friendly tours, from the middle regions upwards there are a great number of challenging trails for mountaineering and climbing. On your way, you'll pass lush, flavoursome meadows and woods. Cosy alpine cabins invite you to pause here and there.
The same variety of levels goes for biking, as well. Any road in the valley, any plain trail on the sunny Kaiserwinkl plateaus or the most challenging uphill trails, there are plenty of possibilities to conquer the land on two wheels. Right on our campsite's doorstep, there leads the Mozart bike trail.
Rafting/kayaking/canyoning
Lovers of unruly waters can't go wrong with any of the three sports.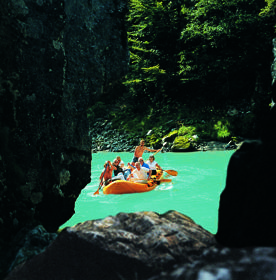 You decide whether to take a solo in a kayak or an all-for-one rafting tour with family and friends. Anyway, boating river "Großache" through the steep and narrow ravine "Entenlochklamm" truly is unforgettable.
For all you thrill seekers out there, they also offer guided canoyning tours with certified guides and top equipment.
Dizzy heights
All those who want to go further up, are going to find a suitable match in the obstacle course on high ropes. If this isn't adventure enough, how about bungee jumping or paragliding - with a certified tandem partner for starters?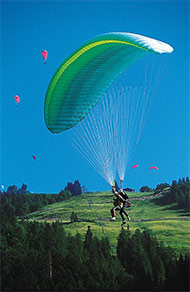 For further details get in contact with your partner in dizzy heights:
Adventure Club Kaiserwinkl, Hüttfeldstrasse 65a, A-6345 Kössen, www.ack-koessen.at, phone: +43 5375 2607
Golfing
The landscape of Kaiserwinkl is just made for golfing. Even if golfing came to the region only recently it is has a great lobby around here. There are two modern 18-hole courses at your disposal: Koessen golfers club and Reit im Winkl golfers club. In Walchsee, hotel "Moarhof" do a 9-hole course amid the scenic beauty of leisure area "Schwaigs". Other short and long courses across Kaiserwinkl provide golfers with quite a number of attractive options.

For further details please get in contact with the golfers clubs:
Kaiserwinkl Golf Kössen, Mühlau 1, A-6345 Kössen/Tirol, www.golfclub-club.at, phone: +43 5375 21 22
Golfclub Reit im Winkl-Kössen, street address: Moserbergweg 60, A-6345 Kössen/Tirol, postal address: Postfach 1101, D-83237 Reit im Winkl, www.gcreit.de, phone: +49 8640 798 250
Golfclub Walchsee, Moarhof, Schwaigs 42, A-6344 Walchsee, www.golfclub-walchsee.at, phone: +43 5374 5378
Archery
Lovers of archery are going to enjoy the unique field courses in forest setting across Kaiserwinkl.

For further details please contact:
3D-Bogensportclub Kössen, Moserbergweg 44, A-6345 Kössen, www.3dbogensportkoessen.at, e-mail: This email address is being protected from spambots. You need JavaScript enabled to view it.
Fishandbow, Steinbruchweg 8, 6345 Kössen/Staffen, phone: +43 676 848536686
In addition to this, there are two more archer field courses in Waidring, a village nearby Kaiserwinkl. For more information, please visit www.strub.at/bogensport and www.bogenparcours.co, phone: +43 660 55 444 69
Archery in Ruhpolding (a 20-minute car ride from here): www.bowhunting-chiemgau.de , Maiergschwendt 3, 83324 Ruhpolding, phone: +49 8663 418149
Archery in St. Johann (a 30-minute car ride from here): Bogenparcours Pointenhof, Mr Johann Mettler, Berglehen 10a, A- 6380 St. Johann in Tirol, Österreich, phone: +43 5352 63366, e-mail: This email address is being protected from spambots. You need JavaScript enabled to view it. , www.tiscover.at/pointenhof
Archery in Kirchberg (a 45-minute car ride from here):
BSV Avalon, Mr Hubert Hochkogler, Kiendelleiten 17 , A-6365 Kirchberg/Tirol, phone: +43 5357 4249 , e-mail: This email address is being protected from spambots. You need JavaScript enabled to view it.
Lakota Bogensportverein, Bogensport Gigl, Bokern 15 , A-6365 Kirchberg, phone: +43 664 4242740 , e-mail: This email address is being protected from spambots. You need JavaScript enabled to view it.
Archer in Jochberg (a 45-minute car ride from here): Alte Wacht, Familie Zwertetschka, Pass-Thurn-Str. 14 , A-6373 Jochberg, phone: +43 5355 5222
Horseback riding
There are quite a few stables in the area. Most of them accommodate a variety of domestic horses, of all sorts and ages. Whether beginner or advanced rider, whether child or adult – everyone will find the right horse at the right stable.
For further information please contact:
Dagnhof, Alleestrasse 3, A-6344 Walchsee, www.dagnhof.at/reitanlage.htm, phone: +43 5374 5265-0
Fohlenhof Ebbs, Schloßallee 31, A-6341 Ebbs , www.haflinger-tirol.com, phone: +43 5373 42210
Angling
Quietude and nature are closely linked to angling and fishing. The closest option to country campsite Seemuehle is, of course, on-site fishing. Luckily, lake Walchsee's own channel, which at its ponded end turns into a stream, runs all the way through Seemuehle parklands. In other words, here at country campsite Seemuehle you have direct access to the running waters of the channel and the stream which are rich in fish! Just buy the fishing permit for both locations directly from us and start fishing the channel up and down for pike, purch, tench, carp and whiting. The area beyond the watergate is perfect for catching trout.
Angling at lake Walchsee is possible, as well. There, the same fish are found as mentioned in connection with Walchsee channel and stream. Mountain angling in conjunction with a nice hike (1 hour from car park) is best at lake Taubensee, Koessen. There you'll find pike, tench, carp and whiting. Lovely lake Hechtsee waits on you with pike, carp, tench, trout, whiting and sheatfish. Lake Pillersee, on the other hand, is purely salmons. Its water is living space to splendid rainbow trout, brown trout, lake trout and whitefish.
There are other running waters in the area which are typically rich in salmon fish, e.g. stream "Kohle", stream "Weißenbach", stream "Großache" in Kirchdorf and Schleching, river Inn, etc.
Fishing can also be fun at one of the angler's ponds: pond "Aufeldteich" and the so-called Bichlach ponds in Bichlach, pond "Kaiserwinkl" in Schwendt and pond "Hager" in Koessen.