Leisure & theme parks
Leisure park Zahmer Kaiser [tame emperor]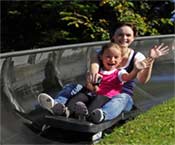 There is a summer bob in Durchholzen, just about 3 km from country Campsite Seemuehle. It is a popular attraction and best loved for its stunt parts Skydive, Luna-Loop, Nautic-Jet. As adrenalin kicks in the question is, of course, to scream or not to scream?
Durchholzen 70, A-6344 Walchsee, www.zahmerkaiser.com, phone: +43 5374 5286
Familienland/St. Jakob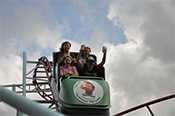 Time flies when you're in family land, St. Jakob. Whether you go for the climbing wall, the trampoline, the climbing bars and frames, the slide, the children's zoo, the rollercoaster or the huge bouncy cushion, the whole family are going to enjoy themselves.
Mühlau 29, A-6392 St. Jakob, www.familienland.net, phone: +43 664 59 62 997
Tales and adventures in Marquartstein & Ruhpolding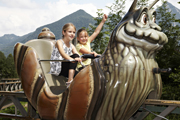 Both parks work well for all the family, particularly children love the mix of things to see and do. The stories keep them busy and fairytale characters teach them new things. Activities keep your little ones engaged in a bunch of exercises. Who doesn't want to travel on a snail or play rodeo on a wooden bull?
Adventures: Jägerweg 14, D-83250 Marquartstein, phone: +49 8641 7105
Fairytales: Vorderbrand 7, D-83324 Ruhpolding, www.maerchenpark.de, phone: +49 8663 1413