Campsite Seemuehle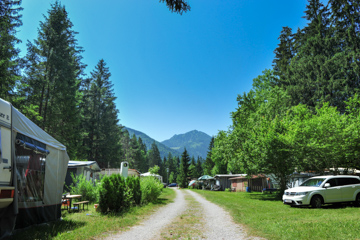 Situated in a delightful, picturesque, tranquil, true-to-life rural setting, the campsite and the adjacent Seemuehle gardens run along an enticing channel of the lake Walchsee, its pure, green water perfect for swimming. The parkland of the Seemuehle gardens holds spacious lawns for sunbathing. The only thing left to do: relaxing and daydreaming.
Our camping spaces are comfortable and king-sized, if need be neatly shaded by trees and bushes. Each single pitch allows convenient distance to your neighbour campers in order to achieve maximum personal freedom; however, still close enough for smalltalk and socialising…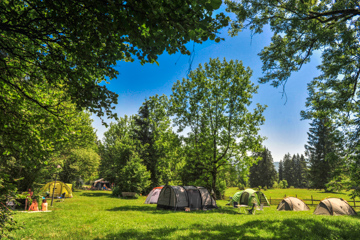 If you are looking for remoter pitches, we can recommend those by the soft grounds of Seemuehle gardens. No doubt, with their breathtaking view of the mountain chain Kaisergebirge in the south and the west and access to water in the north, your favourite camping spot might just be here.
When exploring the area further you'll find that the campsite is surrounded by even more woods with a large, native tree population and Alpine torrents here and there with occasional waterfalls. That's when you'll find yourself in a place so natural and original as they hardly exist anymore today. Discover the beauty of the channel and the lake, find out more about the valley, the gentle hills and the rocky summits – learn more about the extraordinary scenery. You'll love it!